Holiday Home ownership brings you the freedom to enjoy as many short breaks and longer stays as you like – no need to book ahead and everything is all there ready and waiting when you arrive, however we appreciate that purchasing your first holiday home can be a little daunting. So to help we have collected together some questions we are frequently asked about holiday home ownership here at Skiddaw View which we hope will be useful.
How much are the pitch fees?
Pitch fees are the primary ongoing cost associated with holiday home and lodge ownership. Our pitch fees for holiday caravans are due on March 1st each year, and for lodges they are due on either May 1st or September 1st – but we do offer a split payment too. Our pitch fee is made up of a few different elements including: the ground rent (the cost to keep your home sited here all year), water and waste & recycling and is inclusive of VAT. Our current pitch fees are as follows: £3,400 (approx.) for Caravan Holiday Homes and £4,800 (approx.) for Lodge Holiday Homes.
What are the other costs associated with holiday home ownership?
After the pitch fees, the other main costs of holiday home ownership are the following: Local rates: due by everyone on the park everyone makes a contribution towards the rates, this is due once a year. Electricity: which is supplied on a metered basis and invoiced during the season. Gas: either available via LPG cylinders, additional cylinders are purchased when required via office for caravan holiday homes and for lodge homes gas is supplied on a metered basis and is invoiced during the season, like the electricity. Insurance: For a typical holiday caravan with decking and contents the annual insurance (including IPT) would be in the region of £350-£650. We offer competitive insurance policies, through our insurance partner Compass Insurance. We can offer you a competitive quote, put you on cover and help support you with claims – quotes can be given on request. You are of course free to shop around for the best deal if you wish.
Skiddaw View Holiday Park Ltd is an Appointed Representative of Bspoke Lifestyle Ltd and is authorised and regulated by the Financial Conduct Authority, FRN number 413753. Compass Insurance is a trading name of Bspoke Lifestyle Ltd, registered in England and Wales under Company Number: 11429456 at Registered address: 7 Pullman Court, Great Western Road, Gloucester GL1 3ND. Bspoke Lifestyle Ltd is authorised and regulated by the Financial Conduct Authority, FRN Number: 820727.
Can I live in my holiday home?
No, we are a holiday park and thus you are not permitted to use your holiday home as a primary residence. All holiday homeowners must maintain another full time UK address (where Council Tax is paid) - proof of this will be required.  
How long is the season?
The season length for the Lodges Holiday Homes is 12-months - the lodge holiday homes benefit from: piped gas, trace heated water pipes and are all built to residential specification in order to provide a full service over the winter. The Holiday Caravans homes have a 9-month season from March 1st to 1st December.
What is the difference between a timber or holiday lodge and holiday caravan?
In short, the season length, but also some variance in the build specification and cladding options. The lodge homes have a full 12-month season, but also a lodge will be built to residential specification (BS3632) as standard and will be clad in either: wood, composite or wood-grain upvc. The holiday caravan homes have a nine-month season and while they can also be built to either residential specification, most will be holiday specification (EN1647) they will feature generally aluminum or rigid upvc cladding. All holiday homes we have listed for sale will be shown as either a caravan holiday home or lodge to make it clearer for you.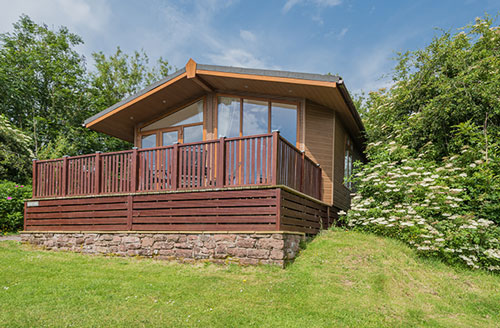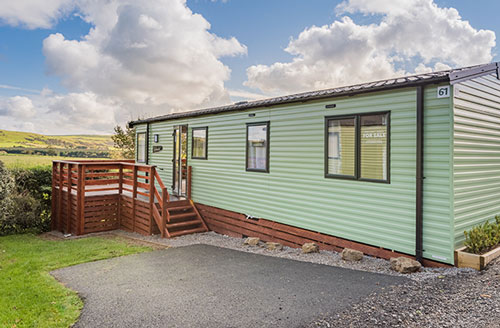 Does a holiday home require a TV Licence?
Not necessarily, unless you will be using you (or others) will be using the television at your home at the same time as your holiday home. If you will be using both simultaneously then you will need a separate licence for your holiday home. If not then you will need to complete a declaration with TV Licensing informing them that you won't be using the televisions in each location at the same time. 
Will the holiday caravan/timber lodge depreciate?
As they are not permanent 'brick built' structures, so they behave in a very similar way to cars, so will depreciate along with their licence agreement.  
Does a holiday caravan/timber lodge require maintenance?
Other than wear and tear and minor breakages, today's modern holiday homes shouldn't require too much in terms of maintenance. We do ask that holiday homeowners maintain their decking to a good standard and stain using the park approved stain type and colour. We also strongly advise that your holiday home is gas safety tested each year and that your home is drained down while not being used in the wintertime to prevent it freezing and causing damage to the pipe-work. We can assist with any maintenance so you can just sit back and enjoy your leisure time. 
How long can I keep my holiday home?
We hope that you will spend many, many years here at Skiddaw View in your holiday caravan or lodge, but you can keep your holiday home on-site until at least your licence agreement expiry date. The length of the licence agreement will be detailed on each caravan or lodge we have for sale – pre-owned homes will show the amount of time remaining and new holiday caravans and lodges will have a full licence agreement which will be detailed.  
What is the BH&HPA and the 'licence agreement'?
Here at Skiddaw View we uphold the codes and good practice set out by the British Holiday and Home Parks Association (BH&HPA; the park industry's official representative body). When you buy a holiday home we will provide you with two agreements set by the BH&HPA. The first agreement is called the 'Purchase Agreement': this sets out the terms for the purchase of your holiday home. The second agreement is the 'licence agreement'. This sets out the terms on which you will station your holiday home at Skiddaw View Holiday Park. These agreements help ensure peace of mind in the years ahead with the assurance of tenure, i.e. your right to occupy the holiday home pitch for the given period.  
What happens at the end of the licence agreement?
You can of course upgrade your holiday home at any point during the licence period and a new holiday home would be sold with a new licence. However at the end of a licence agreement you can upgrade the home or you can arrange to have the home moved to another park. It is also possible that you would be offered a year-on-year agreement – this would be reviewed annually and would be dependent upon the condition of the home and also what else was happening on the park at the time. However, we can only guarantee the standard licence period.  
Is sub-letting allowed in the holiday homes?
No. Sub-letting is not permitted in our holiday homes. However, non-commercial letting to family and close friends is permitted.  
Does the park have rules?
We do have park rules and all holiday homeowners must adhere to them at all times. These are available upon request.  
Do you offer Finance for holiday homes and lodges?
Unfortunately we are unable to offer finance directly. Most holiday homeowners buy their homes outright but others often use a personal loan or you may also take a look at Pegasus Finance, they offer specialist lending for holiday homes and lodges.  
Do holiday homes have warranties?
Brand New holiday homes will come with a manufacturer warranty, which can on some aspects of the home be up to 10 years. Further details on warranty for specific holiday homes can be supplied upon request. Warranty can vary on pre-owned holiday homes and lodges, if you are unsure please ask for details.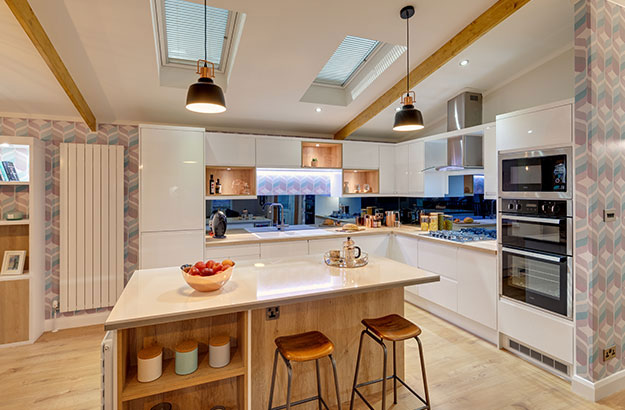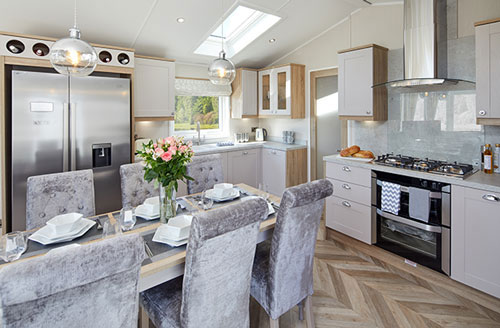 How do I make the most of my holiday home?
We have owners from across the entire UK, and thus we find that owners will fall into one of two categories: those from further away will tend to visit less frequently, however their stays will tend to be for a few weeks at a time, where as those closer (within a couple of hours) will tend to visit more frequently but for less time (i.e. weekends and week long stays). So we would suggest that you consider the type of stays, which you would like to have along with your distance from us to help you make the most of your holiday home.  
How long do owners stay at Skiddaw View?
We are especially proud that we have a great number of holiday homeowners who stay with us for many, many years and have multiple holiday homes (sometimes on the same pitch and sometimes they will move around the park). We currently have owners who have been here at the park for more then 40 years and we even have some multi-generational owners (whose parents had holiday homes here and now they themselves have their own holiday homes with us with their children). We feel that the quality of what we offer play a huge role in this, but also we would like to attribute a large part to our approach and help in maintaining a nice friendly atmosphere at the park and our owners who appreciate this and thus help to maintain this feeling.  
Just what is inside holiday caravans and timber lodges these days?
If you haven't been inside a holiday home for a quite a while, then you will be in for quite a surprise. Modern holiday homes offer a true home from home experience – with the most stylish of interiors that wouldn't be out of place in a high-end interior design magazine. Homes come supplied fully furnished and equipped with everything you will ever need including integrated appliances such as fridge-freezers, dishwashers, washing machines and even wine coolers.  
Are pets allowed at Skiddaw View?
Absolutely, we are very pet friendly. The holiday park has a rather unique 'dog play area' with a selection of obstacles for you and your four-legged friend as well as a four-acre dog walking area - plus there are lots of great walks in the local area.  
If we decide to proceed with a purchase what happens next?
In order to secure a holiday home we would require a 10% deposit to secure your holiday home at which point we would issue you with a purchase and licence agreement for you to read and sign. As standard we offer a 5-day cooling off period from the point in which your deposit was paid. Cancellation outside of this period would result in the termination of the purchase agreement and we would be entitled to recover our reasonable losses arising from the breach. 
Will Skiddaw View be for me?
The best way to find out would be to come and take a look around the park and you can view the holiday homes or the available pitches and see if Skiddaw View is the place for you. We can also answer any other questions, which you might have. We would be more than happy to show you around so please get in touch with us to arrange a visit by calling us on 016973 20919 or by emailing office@skiddawview.co.uk.  
-- The Skiddaw View Team